Beating Adwords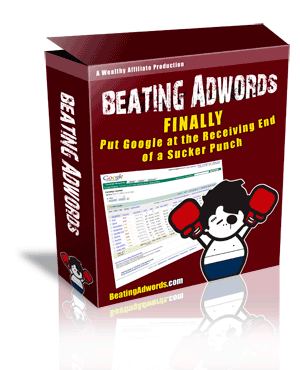 Beating Adwords is an e-book written by Carson and Kyle, also known as the Wealthy Affiliates. They teach the basics of Adwords in the book along with helpful tips on how to improve the layout of your website and be successful in your Adwords campaign. In addition to this, they also outline the importance of lead capture pages, also known as landing pages, to see how many visitors come to those pages through your ad campaign. They mention that Google Adwords keeps making changes that adversely affect the campaigns of advertisers. In order to keep track of these changes you need some expert guidance and help.
Hundreds of internet marketers have benefited from the techniques discussed in Beating Adwords. You will not find these tactics and strategies anywhere else on the web because they are personal experiences of the authors. You can achieve many benefits by reading this e-book, including how to achieve lowest possible bid prices on keywords, how to make changes to your ad campaign to make it consistent with Adwords, increase traffic, and get your ads listed higher. Landing pages play a major role in effectively measuring and increasing ROI. The book is available online for only $67.
Beating Adwords is short and comprehensive. No need to collect lengthy e-books and other training material only to learn the same things taught over and over again. Some people may consider it a negative point but the truth is nobody likes to read large blocks of text and most people usually skip the introduction and basic information. Another disadvantage of the e-book is that it does not teach how to write effective and powerful ads. However, once you have paid the price you will become entitled to receiving updates made to the book according to the constantly changing rules.
The book also covers the topic of Google Content Network, what it is and how to optimize your pages according to the content network. If you are an affiliate marketer promoting products like the ones offered by Clickbank through Adwords, then this book will be very helpful. However, if you have already read a lot of books on the topic of strategies to improve your Google Adwords campaign, then the book may not prove to be very useful. A lot of free guides are also available on the internet and many people like to get their hands on those guides instead of spending money on e-books.
Beating Adwords has received positive reviews from those who have read it. The book is written for beginners as well as advanced users of Google Adwords. It is loaded with practical examples and step-by-step guides to help you set up an effective ad campaign to promote your websites. The book is excellent for newbies as there is a lot to learn about the ins and outs of Adwords and other similar tools. If you are looking for detailed information regarding online marketing and how to increase traffic to your site and increase ROI, then do read Beating Adwords. You will not be disappointed.
"FREE" INTERNET MARKETING COURSE
Previously Confidential Internet Cash Formula Exploits *Proven Secrets* Behind Making A Fortune Online Without Spending A Dime On Paid Advertising! This Amazing Course Is Chock Full Of Super Advanced Training Developed By Two Online Marketers That Consistently Generate As Much As $7,678,397 Each Year!!
You Can Get Instant Access To The Whole Thing * ABSOLUTELY FREE! * Just CLICK HERE And Get This No-holds Barred Step By Step Blueprint Stuffed Full Of The Most Ultra Advanced, Job Crushing Techniques That Pump So Much Money Out Of The Internet, You Simply Won't Believe It !"
---
---
---